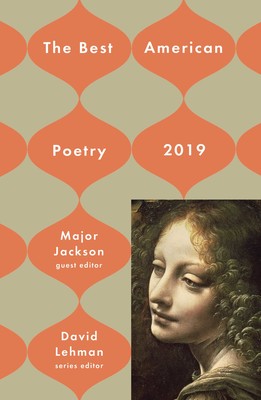 Scribner is thrilled to announce the publication, on September 10, of the 2019 edition of THE BEST AMERICAN POETRY series, edited by award-winning poet and Harvard Review editor Major Jackson. Opening with a stirring essay on the transformative power of art in today's tense times—and, in particular, the impact of accessible, daring verse—Jackson presents an illuminating collection of work by beloved and emerging poets, encompassing the beauty and diversity of contemporary American poetry.
Jackson argues that "even the most personal poems should break through our novelistic sense of ourselves and stabilize the mutual fate of our shared destinies." Jackson believes that the best poems should evoke empathy by drawing the reader in—and that truly great writing "advances an untainted vision of humanity…and works to maintain the sovereignty of language against abusive and corruptive rhetoric that breeds hatred—like much of what we are experiencing today in our political sphere."
In this spirit, BEST AMERICAN POETRY 2019 offers an enticing anthology of poems that push the boundaries of form and compassion, often on pressing social topics—from Tracy K. Smith's rumination on slavery in "The Greatest Personal Privation," to Ocean Vuong's searing exploration of gun violence in "Partly True Poem Reflected in a Mirror," to Natasha Trethewey's haunting glimpse of a father figure in "Duty."
Here, too, is a poem by the late great Canadian songwriter Leonard Cohen, and one by series editor David Lehman—his first inclusion in the series since its debut volume in 1988. Other important figures represented in the volume include Margaret Atwood, Toi Derricotte, Terrance Hayes, and Andrew Motion. You will find admirable jazz poems here, meditations in an emergency, and singular works—Jane Shore's "Who Knows One" and Sharon Olds's comment on her "Rasputin Aria," to name just two—that will leave no one unmoved.
Paired with Lehman's foreword, a moving tribute to the late poet Donald Hall, BEST AMERICAN POETRY is an unforgettable celebration of some of the most exciting writing in this country today.
_______________________
David Lehman, the series editor of The Best American Poetry, is also the editor of the Oxford Book of American Poetry. His books of poetry include Poems in the Manner Of, Yeshiva Boys, and The Daily Mirror. He lives in New York City and Ithaca, New York.
Major Jackson is the author of five books of poetry including The Absurd Man (Norton: 2020). A recipient of a Guggenheim Fellowship, he is the Richard A. Dennis Professor of English at University of Vermont. His other honors include a Pushcart Prize, a Whiting Writers' Award, and a Pew Fellowship in the Arts. He serves as poetry editor of The Harvard Review.