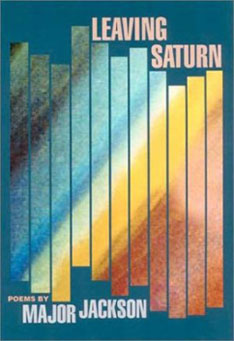 Leaving Saturn, chosen by Al Young as the winner of the Cave Canem Poetry Prize, is an ambitious and honest collection. Major Jackson, through both formal and free verse poems, renders visible the spirit of resilience, courage, and creativity he witnessed among his family, neighbors, and friends while growing up in Philadelphia.
Reviews
Ploughshares, Fall 2002
Leaving Saturn Poems by Major Jackson. University of Georgia Press, $15.95
Reviewed by Afaa M. Weaver
Major Jackson's first collection, Leaving Saturn, is named for Sun Ra, the jazz composer and bandleader who claimed he had acquired his otherworldly gifts and powers on Saturn, where he'd been born. Invoking Sun Ra, you face all parallel universes and endless possibilities of sound and light, like the rattling of God's tongue, and Major Jackson is steady on the case, knowing this Sun Ra wisdom: Space is the place.
"Urban Renewal" is the opening suite of poems in the book, and it is here that Jackson names his own origins by association. In poems that are as much assemblages of the urban vernacular as they are neo-formalist weavings in small narratives, we see what is important to Jackson in his apprenticeship as a poet. There is the recognition of African Americans' heroic and historic struggle carried on by writers as astute and responsible as Sonia Sanchez and Chinua Achebe, and this is all prefaced in the opening poem, where Jackson probes his own lyric and the rooting of his poetic in Dionysian love: ". . . I pledged / my life right then to braiding her lines to mine, to anointing streets I love with all my mind's wit."
In the poem "Blunts" in the book's second section, we have the poet asserting his artistic identity in the urban swirl of decay and hope. Standing in a North Philly doorway with his friends getting their first high, Jackson notes the evidence of genius all around him as he moves to make his own annunciation to startled eyes. "I want to be a poet," he announces. As black men, these youngsters sense the ever-present danger surrounding their lives, along with their need for a serenity issuing from the truthfulness of beauty. The people with whom he lives respond to his desire to be who he is: "So you want the tongue of God."
In "Rock the Body Body," a poem in four parts, there is more evidence of the gift: ". . . We could have crushed / pebbles, thrown fine specks of dust / at the moon . . ." The poet's lyric tongue rises out of the emblems of urban despair and chaos to make love his language, in the further cultivation of the courage that allows him to secure a faith in the poetic of his own life. Jackson inherits the gesture of poet as hero from James Weldon Johnson's naming of the African-American host—"black and unknown bards"—as well as from Eliot's ghosts of white literary tradition.
Jackson knows the truth of black magic. It is a magic as simple as the belief in humanity that subverts racism, or the esoteric and mystical magic of making jazz, the music of hope and love. The black man is these things, God's mighty riff, the miracle Countee Cullen inscribed as "to make a poet black and bid him sing."
The progression in Leaving Saturn is a reflexive linear movement, which is to say it is always where it is going. This kind of polyrhythmic montage of reality can only happen with a poet's completion of his apprenticeship. The poet plays his subject until it yields its own language. Leaving Saturn is carved as one would take a chisel to the rough side of a mountain while hanging on to the mountainside in the frail gear of a climber and the unfailing grasp of the Yoruba orisas. In Leaving Saturn, Jackson sings his own flight: ". . . I heard my name called / over and over from somewhere deep— / Healer! Healer of All Things!" Afaa M. Weaver was the Fulbright Visiting Scholar at National Taiwan University in the spring semester of 2002. His new book is These Hands I Know, from Sarabande Books. Copyright © Afaa M. Weaver
Christian Science Monitor (Boston, MA)
February 20, 2003, Thursday, FEATURES; BOOKS; Pg. 17, 1407 words, A look at the National Book Critics Circle nominees – Poetry
LEAVING SATURN, by Major Jackson, University of Georgia Press, $ 15.95
Small wonder that Al Young, in introducing "Leaving Saturn," calls Major Jackson's collection, "a debut album of a book." These assemblies of word, phrase, and line offer collages out of Romare Bearden, and their subtle meters have a musicality that conjures the back beats of an adolescence and adulthood in a Philadelphia stretching immeasurable latitudes away from the Main Line. For Jackson, the city's founding spawned a fallen place, where the prospect of "Penn's green countrie towne uncurled a shadow…/ that descended over gridiron streets like a black shroud." A darkness spreading more darkly into the present, inclusive of mainlining junkies, crack-smoking mothers, and daily sadnesses, such as those of Mr. Pate, who "swept his own shop/ for he had lost his best little helper Squeaky/ to cross fire." Still, there is resilience and vibrancy to this place and its people: grandmothers, musicians, break-dancing teens performing "Kangoled head spins," and people such as Mr. Pate, who endures, "gathering/ up clumps of fallen hair … as though/ They were the fine findings of gold dust." Throughout, too, is the governing presence of the poet, whose "pen lifts like the blade of an oar/ out of cement… You row for reflection as every action has an equal,/ the stamina of legends; rowing is vital." (75 pp.) By Reamy Jansen
The Daily Free Press
National Book Critics Circle Awards
Thursday, February 20, 2003
Jackson Anoints the Streets
Reviewed by Daniel DeBonis, Contributing Writer
Love, mortality, melancholy — these are the great poetic themes to which Major Jackson has added another: urban renewal. Jackson isn't the first poet to address the subject. After all, urban poets reflect a world that is made and remade every day, but he takes his pen to the streets of the slums.
Leaving Saturn begins with "Urban Renewal," a twelve-part meditation on art, humanity and Philadelphia. The first image is a painter, working religiously: "anointing streets I love with all my mind's wit." Then, after wandering through local history, lonely alleys, the Liberty Bell, Temple and various other locales and complexities, the narrator arrives at the Cascades, listening to "This American Life." Jackson's subjects may start out in the Blumberg Housing Projects, but they invariably end up elsewhere, recalling a place far away. After all, Leaving Saturn is inspired by Sun Ra, the jazz pianist who claimed to have been sent to Philadelphia on a mission from Saturn.
It's a mistake to categorize Jackson's work as social, sacrificing the varied abilities of a talented poet for the sake of easy classification. He is certainly socially conscious — but conscious of the broad prejudice (and solidarity) that comes from living on the wrong side of the tracks. His poetry bears many resemblances to Carl Sandburg's, drawing on definite people and places, inventive free verses and a clear poetic language. Both are occasionally sentimental, but unlike Sandburg, Jackson withholds judgment, sharing his subjects' guilt. In "Euphoria," for instance, the young narrator pays for a handjob while his mother is in a crack den, enjoying that "happiness so hard to come by."
Jackson's poetry is built on the idea that art can be the instrument of urban renewal, and as a poet, Jackson himself is pointing the way.
More Reviews
Listen to an audio review of Leaving Saturn from NPR's All Things Considered (requires Real Audio Player)
Borderlands: Texas Poetry Review No. 21 Fall/Winter 2003: Leaving Saturn Reviewed by Philip Pardi
Boston Globe: Leaving Saturn Reviewed by David Mills
Philadelphia Inquirer: Leaving Saturn Reviewed by George Held
Re-membering ecstatic landscapes: A view of Major Jackson's Leaving Saturn by Laura Tuley
Small Press Traffic: Leaving Saturn Reviewed by Kathy Lou Shultz